Added Value
Disruption is the new normal in retailing. Retailer, industry and other stakeholders along the value chain are in the middle of huge transformation journeys. Learn from the latest successful transformation models, new tools and services and how you can benefit from this shared knowledge at the upcoming International TCG Retail Summit.
Please note, due to exclusive event format, that the number of participants is limited. The conference will be held in English.
More than a conference concept
The International TCG Retail Summit combines today´s retail and future, established values and innovation, best practice and analysis.
We offer more than a simple congress concept or a standard exhibition.
The focus is on interaction. High level presentations will be actively analyzed by domain experts. The guest speakers will answer questions from Europe´s leading retailers and industry captains in direct discussion or panel format.
See real world examples of how technology is disrupting and changing the way that shoppers shop and retailers do retail by visiting the innovation zone. The innovation zone will showcase the latest in technological innovations that both disrupt the way we do retail today and power the retail experience of the future.
Preliminary Program 2024 will be announced in November
Structure of the summit 2024
March 12:
19:00
Pre-summit welcome reception (ends at 21:00)
March 13:
08:00
Registration and networking session opens
18:00
End of conference first day
20:00
Exclusive networking dinner
March 14:
08:30
Conference second day begins
May 24
08:00:
Registration and networking session opens
09:00:
Welcome by Chris Buecker, Founder of the International TCG Retail Summit & Conference Host's opening remarks
Surviving today to transition to future success
Toby Pickard, Global Insight Leader, IGD
Retailers and suppliers are operating in the most complex environment for decades. In this session, Toby Pickard will focus on the range of issues retailers must respond to in the short term to deliver cost savings, sales, and profit growth, and look at the key priorities over the longer term to ensure they remain relevant and fit for the future.
Speaker's Bio
Toby has over 15 years of experience in food and consumer goods insights at global research organisation IGD. He has been recognised as a leading retail technology influencer, named as a top retail influencer for RETHINK Retail in 2022 and awarded 2022 RTIH Top 100 Retail Technology Influencer. Regularly quoted in trade and national media, Toby has in-depth knowledge on the technologies that are transforming the physical and digital stores of the future, and how shoppers are responding to these changes. Toby works with major brands and retailers from around the world to inform and inspire them about developments in the industry and help them future proof their operations.
Panel discussion
Questions & answers with audience
In conversation with: Prof. Dr. Andreas Dombret, Global Sr. Advisor, Oliver Wyman & former EBM, Deutsche Bundesbank
The three «i's» shaping our world today: invasion, inflation, interest rates
Since early 2022, the world order has changed in a way which seemed unthinkable: adding to the economic challenges which were induced by the pandemic, the war in Ukraine added another layer of economic uncertainty, with significant commercial knock-on effects: soaring inflation led to recession scenarios in many parts of the world. Rising interest rates trigger significantly reduced levels of consumption in the private sector, in particular non-essential consumer goods. Andreas will help us to de-couple the individual macroeconomic and commercial effects and will shed light on potential scenarios for 2023 and the years ahead.
Speaker's Bio
After a career in banking with Deutsche Bank, JP Morgan, Rothschild and Bank of America Merrill Lynch, Prof. Dr. Andreas Dombret served on the board of Deutsche Bundesbank, on the Supervisory Board of the European Central Bank (ECB) and on the board of the Bank for International Settlements (BIS). Since leaving the public sector, Andreas acts as Global Senior Advisor for Oliver Wyman and further institutions. To pass on experience and provide guidance for generations ahead, he also acts as an Adjunct Senior Research Scholar at the Faculty of International & Public Affairs at Columbia University in New York and a lecturer at European Business School in Oestrich-Winkel, Germany. He is also a board member at the European School for Management & Technology (ESMT) in Berlin, Germany.
Questions & answers with audience
Focus amidst disruptions – vital pillars bolstering 2030 strategies
Jan Lorbach, Senior Director Strategic Insights, GfK
When day-to-day challenges are high on the agenda, it is often hard to stay focused on long-term success strategies. Such strategies are grounded in mirroring or anticipating changing consumer demands and expectations: ultimately, with new types of purchase journeys on- and offline, social selling and metaverse on the horizon, what does it take to impress customers who increasingly embrace sustainability and brands with a purpose? What can we take away from today's research, as new business models come to life and concepts like owning and belonging may fundamentally change? Join Jan in his speech and learn where retail must be prepared already today to be successful in 2030.
Speaker's Bio
Jan Lorbach is Senior Director Strategic Insights at GfK and a recognized expert for market trends in the technical and durable goods area. Jan is part of the Global Strategic Insights team at GfK and provides fact-based strategic analytics by integrating multiple sources of GfK research, including unique global Market Intelligence (retail sales-out) data and consumer studies. He and the team are transforming rich data into relevant insights on how the markets are changing and where they are evolving to. Jan Lorbach has more than 10 years of experience at GfK. Before joining the Global Strategic Insights team, he inherited different accounting roles for key client in the field of Consumer Electronics, Photo and Telecom, including business consulting to these clients on global level.
Panel discussion
Questions & answers with audience
Coolblue: anything for a smile
Pieter Zwart, Founder & CEO, Coolblue
Many webshops consist of images, prices, and buttons. The images are the same everywhere, the order buttons have to work. That leaves only the price to compete on. We don't want that. That's
why we go beyond picture, price, and button. We build leading customer journeys. Customer
journeys from start to finish.
Speaker's Bio
Pieter Zwart (1977) is owner and founder of Coolblue: one of the Netherlands' largest consumer electronics webshops. In 1999, Pieter founded the company with his fellow students Paul de Jong and Bart Kuijpers. Their goal: to build an exemplary company in the field of customer-centric business. Coolblue passed the 'billion-dollar mark' in 2018, reaching annual sales of € 1.35 billion. By the end of 2022, they had achieved a turnover of € 2.3 billion. Coolblue operates in the Netherlands, Belgium, and Germany, has 22 physical stores, and around 6,500 employees. Pieter Zwart credits Coolblue's success to its obsessive focus on customer satisfaction. The company's slogan and guiding principle is: 'Anything for a smile.' In practice, this translates to an effortless customer journey.Pieter's responsibilities within Coolblue include Category Teams, Customer Experience, Stores, Tech, Purchasing, Germany, Business Journeys, Solar Panels, Energy, and Marketing. In addition to his love of enterprise, Pieter loves to cook and is an avid dinosaur fan.
Discussion with facilitator
Questions & answers with audience
In a consumer empowered world, only truly customer centric brands will thrive and survive in the long-term
Martin Newman, Consumer Champion
Martin is one of the world's leading authorities on customer centricity and customer experience. He will bring his framework for customer centricity to life with case studies and examples from retailers and brands with great cultures who deliver the best experiences both for their employees and their customers, leveraging technology to empower and drive convenience, who are both focussed on sustainability and diversity and inclusion and who have genuine purpose and authenticity at their heart.
Speaker's Bio
Martin, a consumer champion, appears regularly on the BBC, on Sky, and Channel 5 to discuss consumer issues. He previously headed up multichannel operations of some of the world's leading brands including Burberry, Intersport, Pentland Brands (Speedo, Berghaus), Harrods and Ted Baker and authored the bestselling books 100 Practical Ways to Improve Customer Experience, and The Power of Customer Experience. He is a Non-Executive Chairman of the Scout Store, Chairman of the advisory board for Mayborn Group, Chair of the advisory board for eshopworld, and a member of the prestigious KPMG IPSOS Retail Think Tank. He also now runs a mini MBA in customer centricity with the Oxford College of Leadership and Management and Oxford College of Marketing.
Panel discussion
Questions & answers with audience
Social commerce BLOW UP!
Victoria Neuhofer, "Millennial" Leader & Founder & CEO, Damn Plastic
Business as usual – old-timers laugh about new developments and just like that they miss an entire opportunity. To give a recent example: e-commerce is for old people. Those old-timers laugh at TikTok and Snapchat. And guess what showed up on the horizon: SOCIAL Commerce. But for some reason, these guys couldn't see the opportunity. Don't be like them. Get on board before the ship has sailed.
Speaker's Bio
Victoria Neuhofer, is a "Millennial"- so called Generation Y–leader. The young entrepreneur followed her passion, even though she was actually employed full-time in the family company. Despite being the 11th generation following 375 years of tradition, Victoria decided to face a new challenge: founding a start-up. Learning from old traditional ways she jumped into a completely new world: and so "DAMN PLASTIC" was born. Victoria grew up with social media, has experienced the ever-changing trends and knows how to approach today's environment, reaping profits for her companies and those she consults with. Her speech "social commerce BLOW UP!" will show that "business as usual" is not that usual anymore.
Discussion with facilitator
Questions & answers with audience
From Consumer Electronics to Experience Electronics
Dr. Karsten Wildberger, CEO of CECONOMY & MediaMarktSaturn
How to become an experience champion for the customers in times of fundamental change of the industry? Karsten pursues the goal of successfully shaping the future of retail with the right customer experience across all channels, the right services and exciting new business models. The unifying and consistent element for MediaMarktSaturn is experience, which is created in four different dimensions: Employee, Shopping, Usage, Impact.
Speaker's Bio
Karsten has been the Chairman of the Management Board of Media-Saturn Holding GmbH and Chief Executive Officer (CEO) of CECONOMY AG since August 2021. He holds a doctorate in physics and, as a partner at the Boston Consulting Group, has advised companies in various industries on strategy and digitization topics. As a manager, Karsten has held international leadership positions at T-Mobile, Vodafone and Telstra. From 2016 to 2021, Karsten was a member of the Board of Management of E.ON SE, where he was responsible for Sales, Decentralized Energy Infrastructure, Energy Procurement, E-Mobility, Marketing, Digital Transformation and IT.
Discussion with facilitator
Questions & answers with audience
TCG AWARD CEREMONY
Official announcement of 2023 award winners in the following categories:
Industry Awards
Category Specialist
Technology Innovation
Sustainability
Leadership
Brand of the Year
The rise of inclusive retail
Amanda Farr, Senior Director Marketing EMEA, Microsoft
It is widely accepted that this is the Age of the Consumer and in this keynote we will explore how inclusivity is at the heart of connecting with the consumer – listening and understanding their needs and wants every day. We will share examples from around the world of best practices and data and insights into the latest trends into changing consumer values, how behaviour is shifting and what this means for our industry.
Speaker's Bio
Amanda Farr is the Marketing Lead for Microsoft's Consumer Sales Organisation (CSO) across the EMEA region. CSO EMEA is responsible for sales across Modern Life (Windows, Microsoft 365 and Surface) and Gaming and puts the consumer at the centre, helping them discover, learn, and buy through all Microsoft channels. Amanda is focused on delivering results across all consumer channels; winning at home and on-the-go with compelling experiences for consumers, accelerating cloud and subscription adoption and driving digital excellence and e-commerce capability in a true omnichannel sales and marketing environment. Amanda joined Microsoft in 2015 and prior to this role, led the Category Management team for EMEA. She has spent more than 20 years prior to this in the Gaming Publishing industry leading Marketing teams across EMEA.
Panel discussion
Questions & answers with audience
TCG Women Leadership Program
Else-Mieke De Bruijn, Content Team Lead, United Retail; Ragip Balcioglu, CCO, Arcelik; Asmae Lahdab, Marketing Manager, Microsoft; Marta Gnjatovic, Head of Commercial Teams, Coolblue
Diversity remains a key challenge in the TCG sector, with around 92% of senior management positions being held by men in "hard core business". This is at odds with the general consensus, that the workforce should reflect the customer base which it is serving. To remedy the situation and plug the gender gap, the TCG Summit has created a mentorship platform to empower the next generation of women, early in their careers or looking to take the next step into management. The mentoring program aims to help propel the careers of women across the TCG sector. It pairs experienced senior executives from across TCG with one of the selected candidates, so they can share their experience and knowledge.
Introduction
In conversation with program participants
18:00 End of conference program day 1
19:00 Dinner reception
20:00 Exclusive networking dinner
May 25
08:15 Conference Host's opening remarks
How to grow three times faster than the competition and triple sales in seven years
Remigijus Staras, CEO, Topo Centras
Being the dominant leader in a country and also the most dynamic retailer: Topo Centras, Lithuania´s frontrunner in TCG, will share the key ingredients of its success. Their key learnings:
– Excellent customer experience – maintain net promoter score at the highest level
– Evolving from an omnichannel strategy to a new generation proactive retail strategy
– Adopting innovation at an extremely fast pace and a "take everything they give you" approach.
Speaker's Bio
Remigijus has been CEO since 2014. He is leading an ambitious transformation program to turn Topo Centras into an innovation leader and solution-first proactive retailer which is truly omnichannel and has perfect CX. Topo Centras has tripled sales over the last seven years and it received the Retailer of the Year Award within Euronics Group for two years in a row – for 2021 and 2022. Prior to joining Topo Centras, Remigijus was in top management positions for 15 years as Vice President at Telecom (Telia) and at FMCG companies (Carlsberg and Cadbury).
Discussion with facilitator
Questions & answers with audience
In conversation with:
Thierry de La Tour D'Artaise, Chairman, Groupe SEB
Thierry de la Tour d'Artaise is a pioneer and visionary in the small domestic appliance industry. With his extensive experience, he has led the Groupe SEB through numerous crises in both mature and emerging markets, and under his leadership, the company tripled its turnover. He was also instrumental in major acquisitions such as Moulinex, Supor, and WMF. functions. Join us for an insightful dialogue with this industry leader.
Speaker's Bio
Thierry went on to join Groupe SEB in 1994, first as Chief Executive Officer and later as Chairman and Chief Executive Officer of CALOR SA. He was then appointed Deputy Chairman and Chief Executive Officer of Groupe SEB in 1999 before being nominated Chairman and Chief Executive Officer in 2000. From July 1st 2022, Thierry de La Tour d'Artaise remains Chairman after a change in corporate governance. Under his leadership since 2000, Thierry has developed the world leader in Small Domestic Equipment, successfully quadrupling its revenue. The Group has completed nearly twenty acquisitions and has worked tirelessly to scale up the Group's innovation capabilities in an effort to meet the specific needs of consumers in mature and emerging countries He has successfully overseen the Group's international expansion while safeguarding manufacturing jobs in France, where Groupe SEB still has 11 industrial sites and employs nearly 6,000 people.
Questions & answers with audience
Alexander Meyer zum Felde, Partner and Associate Director, BCG
Sustainability has become a strategic priority for retail businesses, and some of the world's largest retailers are making real headway in significantly reducing the climate impact along their value chains or embedding sustainable behavior throughout their own organizations. It is a positive sign that the retail sector as a whole is taking sustainability more and more seriously. However, most of the retailers fall within the "opportunistic initiatives" stage of the journey. While they have set bold ambitions, they have not yet achieved the full integration of sustainability into their corporate strategy and throughout the organization. What are the biggest hurdles retailers are currently facing in making sustainability a reality? How can they successfully overcome these hurdles? And what are the benefits they can harness from putting sustainability at the center?
Panel discussion
Questions & answers with audience
Promoting repair of goods for more sustainable consumption
In conversation with: Martins Prieditis, Deputy Head of Unit DG Justice and Consumers, European Commission
The rate at which we throw away goods prematurely in the EU has been on the rise in the last decades. How should we tackle this phenomenon and the society's reluctance to repair? The Commission is addressing some of the causes of this problem in various initiatives. It is already acting and will continue to promote repairable design, accessibility of spare parts and information on repairability of goods. They are all key enablers for transition to more sustainable consumption. With the recent proposal promoting the repair of goods, the Commission wants to make repair an easier and more attractive choice for consumers and ultimately making a new paradigm – buy, use, repair – a reality in the EU.
Speaker's Bio
Martins Prieditis is deputy Head of Unit responsible for the European Union's consumer protection legislation in the Directorate-General for Justice and Consumers (DG JUST) of the European Commission. Martins currently leads the Unit's work on the evaluation (fitness check) of the main EU consumer instruments as regards digital fairness and represents the Commission in the legislative negotiations on the proposal to promote the repair of goods that the Commission adopted in March 2023. He also deals with the implementation of the current EU consumer law directives, including the Better enforcement and modernisation Directive that entered into application in 2022 and covers aspects such as price reductions, 'dual quality' and online transparency.
Panel discussion
Questions & answers with audience
Sustainable product initiatives: challenges and opportunities for manufacturers and retailers
Sarah Schaefer, VP Sustainability Europe, Electrolux & Ozlem Unluer, Head of Sustainability, Arcelik
As part of the wider EU Circular Economy Action Plan, upcoming regulations such as the EU Digital Product Passport and the EU Green Claims will introduce rules that foster transparency and reliability related to sustainability information on products and manufacturing processes. Retailers are increasingly demanding manufacturers to disclose more information on environmental/social impacts of their products, and we see retailers promoting products with their sustainability features in the market when informing consumers. Such initiatives can help consumers make informed choices, but should be carefully constructed to eliminate green washing, and the industry needs a unified set of crtieria that makes an electronics product "sustainable" compared to others in the market. We will examine expectations from manufacturers, retailers, the challenges and the opportunities of the upcoming regulations and how we can benefit from a unified set of criteria as an industry.
Questions & answers with audience
Influencers: content creators, multipliers or just an artificial waste of budget?
Nathalie Ochalek, Managing Director Communication & Relations & Steven Epprecht, Co-Founder, Strategy Leaders
Influencers are used by just about every consumer goods company these days. Discount codes here, artificially posed photos there and lots of marketing budget used for such activations. While discount codes provide the illusion of great direct revenue and sales, isn't brand awareness the true goal of an influencer campaign? And can influencers really generate better sales than the actual sales force? How do you use the power of influencers correctly, when is it overused and which concepts lead to success? Together, we critically scrutinise the influencer landscape and guide you towards the answers to these questions.
Nathalie's Bio
After Nathalie completed her bachelor's degree in communication, she gained a lot of experience in public relations. First on the agency side, later in a large corporation, she continuously expanded her network in the Swiss media and influencer landscape. She was able to implement numerous successful PR and influencer campaigns and plan and execute extraordinary events for a variety of clients in the lifestyle and film industry.
At Strategy Leaders, Nathalie is not only Head of PR, but also Relationship Manager. With her large network and her sense for trends, she brings influencers and clients together to tell successful stories.
Steven's Bio
Steven Epprecht has been working as an international model for more than 10 years and is one of the best known and most successful Swiss influencers. In October 2020 he founded Strategy Leaders together with influencer colleague Sara Leutenegger. In addition, he has completed a bachelor's degree with a specialization in general management and marketing. By founding Strategy Leaders, he was able to realize his life's dream and apply his versatile skills in the areas of social media, marketing, strategic management and to live his creativity to the fullest.
Discussion with facilitator
Questions & answers with audience
Leadership in times of ambiguity (in conversation with two TCG Leadership Award winners of the past years)
Hans Carpels, President, Euronics International, Dr. Reinhard Zinkann, Executive Director & Co-Proprietor, Miele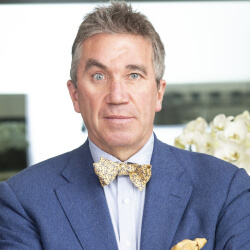 The pandemic, the war in Ukraine, rising costs, labor shortages, supply chain issues, cooling of economies and new hybrid work models. Many uncertainties and changes at the same time. What are the recommendations of the past-years' TCG Leadership Award winners? Do leaders need to reinvent themselves? What leadership skills are expected by their team and their own workforce? And how to ensure to stay attractive to Generation Z as an employer in the future?
Omni-Channel: the future of retail
Pass Lei, Head of Innovation, JD.com
A reform is coming in the European retail industry. The choice is to ignore it or embrace it in a positive way. Let us tell you about the new concept designed for omnichannel sales in Europe. JD.com strongly believes in the opportunities to innovate the way we shop: convenient and advantageous for customers; efficient and productive for the company. The key is #omnichannel: In China the online player successfully launched the 7Fresh model in 2018 in which the supermarket also acts as an efficient logistics hub for online deliveries (30-minute delivery within 3 km). Today 50% of the turnover of those shops comes from online deliveries and 50% paid at the checkout. A successful model, with over 100 stores already open. For the European market, given the high cost of labor, the tech giant has instead designed Ochama: an organic combination of pick-up points partnered with 3rd parties and robotic pick-up shops where the customer can independently collect their order, or even do it on the spot. The pick-up business started in 2022 in the Netherlands is giving good results, thanks to aggressive prices – 10% less than discount store – and JD.com is ready for further expansion.
Speaker's Bio
With 15 years working experience in HSBC, Lenovo, Oxford and JD.com, Pass currently is the head of innovation department in JD.com and general manager of Ochama. With rich experience in retail and cutting-edge logistics technologies that JD.com has accumulated over the years, Ochama is the new format omni-channel platform in the world that offers online ordering and pick-up shops in which robots prepare the parcels, and home delivery service for all category products. As the founder of Ochama, Pass initiated Ochama project and has deep know-how and hands-on experiences about omni-channel, digitalization, innovation transformation of retail.
Discussion with facilitator
Questions & answers with audience
Venue Information
Located in Vienna's centre, 5-star Hilton Vienna Park is next to the City Park. The newly refurbished rooms at Hilton Vienna Park are decorated in warm colours and offer panoramic park and city views. St. Stephen's Cathedral and the Kärntner Strasse shopping street are just a 10-minute walk away.